Fleshlight Girls are the hottest names in porn and this week, our eyes are on Lena the Plug! The sexy millennial is known for her raunchy YouTube workouts, and now you can get physical with Lena's seriously fit, custom moulded Fleshlight. Read on for a little taste of Lena at home.

Firstly, if you haven't heard of Lena the Plug, do yourself a favour and follow her on Snapchat here (you can thank us later). It's easy to see why she stands out from the throngs of thonged babes that populate your Insta feed! The Armenian-American's long hair, tiny waste and round, juicy booty makes her one seriously hot mama.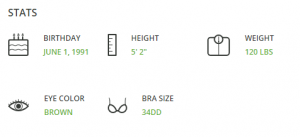 But don't let her looks fool you. Lena is as much brains as she is beauty! Graduating from college with a psychology degree, Lena began working for a successful social media start-up. This gave her the prowess to build her own brand, which she launched on YouTube. And knowing that her butt was a hot topic, she started working it – vlogging about fitness in tiny gym clothes. It wasn't long before she was strutting her stuff at the Vixen, Tushy and AVN Awards. She even beat out Kim Kardashian at the inaugural Pornhub Awards for Celebrity of the Year! Go girl!
Unlike some porn stars who are micromanaged by their agents, Lena's content feels close and candid. It's a style that appeals to many millennials and genZ fans, and looking at her videos, you'll find varying levels of raunchiness (her YouTube channel is technically SFW while her Pornhub profile will have your penis so hard it hurts).
While she has almost 1.5 million subscribers, the 28-year-old Gemini loves to monkey around. 'Come for the booty, stay for my irresistible charm' is her catch phrase, while her interests include Harry Potter, Pokemon, Game of Thrones and true crime. And her Fleshlight isn't Lena's only cute pussy, either! She loves her cat so much that he has his own Instagram, @iamtonythecat!
Sound like the average millennial? There's nothing typical about Lena's pussy stroker.
Nicknamed 'Honey', Lena's Fleshlight is designed only for pleasure. With pretty lips on the outside and a sweet combination of nodes and rings on the inside, you'll be dipping your penis in Lena's honey spot again and again!

And if you love anal, Lena has 'thoughtfully' offered her butt as the jewel of your Fleshlight collection. Nicknamed 'Perfect', it's irresistibly tight – just like Lena herself.
But wait, there's more! Lena's sensational Honey Combo package is the only thing you need to have your own package screaming for more. Perfect if Lena is your first Fleshlight, this exclusive offer includes a Lena the Plug Honey Fleshlight, a Fresh & Clean care pack, 8oz Fleshlube Water and a Fleshlube sample to try at home.
Want to take your experience to the next level? Try Lena's Fleshlight with Fleshlight Quickshot Launch – an automated device that powers your stroke length and speed for you. It includes a universal smartphone mount so you can watch Lena's sexy home videos online. Think girl-on-girl action, POV boyfriend blowjobs, threesomes and more.
Ready for some Lena love? Shop online here.