Forget boring clichéd presents and give the gift of pleasure this Christmas. This list is full of ideas for every type of man, whether it's a date, your partner, your roommate, or yourself, it'll be the gift that keeps on giving.
1. Stamina Training Unit: Lady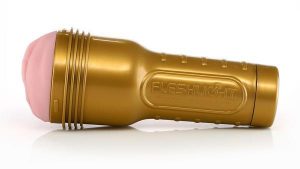 It's the #1 bestselling Fleshlight product worldwide so if you don't want a lot for Christmas, this is the one thing you need. Specifically designed to replicate the intense sensations of intercourse, it'll help users increase sexual stamina, improve performance and techniques, and can even heighten and intensify orgasms. The Stamina Training Unit may be naughty but is sure to get you on the nice list.
2. Sex in a Can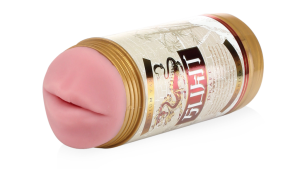 SEX IN A CAN: SUKIT DRAFT
Not much beats cracking a cold one with the boys but what if you could combine beer and sex? We give you Sex in a Can. This novelty toy is fun to look at but even more enjoyable to play with, letting you drain every drop of desire. It's the perfect gift to make sure it's a Christmas they won't forget.
3. Classic Pink Lady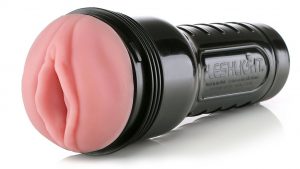 Classics are classics for a reason and whether it's their first Fleshlight or they're a practiced pro, the Classic Pink Lady offers a smooth sleeve designed for those who are more sensitive or just want to make their sessions last longer. The original Fleshlight collection has stood the test of time as the premiere self-pleasure male sex toy. This'll be a present that ensures they'll have themselves a very merry Christmas.
4. Cock rings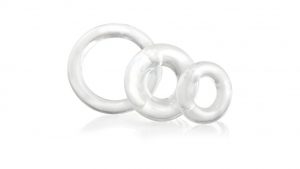 RINGOX3 BY SCREAMINGO ($9.44)
A cock ring has one purpose: to keep erections strong and hard. With heaps of different options to choose from in colour and size, these are super affordable with many of them under $10. No jingle bells and whistles about it, just better sex.
5. Quickshot: Vantage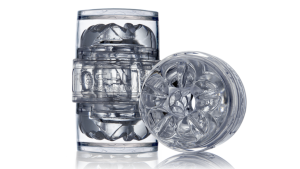 Cleaning up is one of the worst parts of the holiday season so give a gift that means cleaning less and playing more with the QUICKSHOT, which is less than half the size of the original Fleshlight and is unique with its fully exposed orifices on each end. This means it can be used as extra stimulation during oral sex or as a solo masturbation aid and prepare yourself for a not-so-silent unholy night.
6. Fleshlube: Elements Pack
Nothing feels better than being well lubed when getting it on and what cooler way to do it than to have the option of controlling the elements. This lube pack contains all three of our popular Fleshlubes – Water, Fire and Ice and comes in 4oz or 8oz bottles. You'll be getting extra hot or singing tingle all the way this holiday season.
7. Get A Grip Combo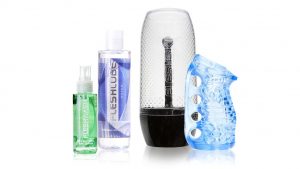 Our first sleeve-only toy will be sure to blow whoever receives this away! You control the tightness and intensity of your masturbation experience with the stroke of your (or your partner's) hand. No plastic case means girth isn't an issue – one-size truly fits all.
8. Apparel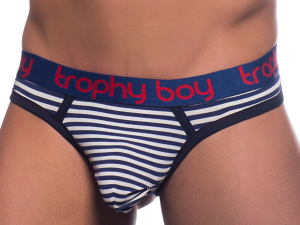 LARGE TROPHY BOY NAUTICAL THONG ($36.94)
If your presence is the present, skip the Santa jocks and show off nature's trophy piece with Andrew Christian's range of underwear. The spacious front gives you more room where you need it so you'll forget you're wearing anything at all.
Only for the sexy and sporty, so made just for you, the new limited edition FUKR Net Thong comes in a soft breathable mesh and virtually eliminates sticking, squashing, re-adjusting, sweating and chafing. It'd really be the most wonderful time of the year.
9. Flight: Pilot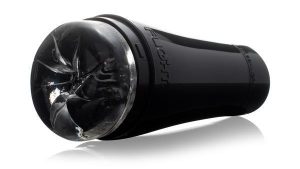 The Flight is sleek, compact, aerodynamically designed and discreet – perfect for travel and storage. Our crew consists of the Pilot and the Instructor. Our Pilot will help navigate you through the turbulent skies – your heart may pound a little faster, but you won't be afraid. So, if you or someone you know is a frequent flyer and has been wanting to join the mile-high club or become a regular, present them with the Pilot these holidays for an unforgettable flight.
10. Anal toys
ROCKS-OFF ROZEN ($69.94)
If you or your partner have wanted to try some butt stuff for a while, get a butt plug, which are great for both men and women. Christmas time is all about giving but that doesn't mean you can't take too. Get your rocks off whether it's for your guilty pleasure or shared with a partner.