If you've been looking for a way to spice up your relationship in bed (or wherever else you do the dirty 😉), look no further.
Something not often talked about between either sex is how the incorporation of sex toys can help increase pleasure for both people.
A great sex life where both people are satisfied translates to a happier life outside the bedroom too.
We've compiled some of the best sex toys for you and your partner that will take your sex life from blah to ahhh!
The Quickshot is Fleshlight's most compact toy to date and is unique due to its fully exposed orifices on each end. This means it can be used as supplementary stimulation during oral sex or as a solo masturbation aid. Lined with thick ribs and bumps, the steely silver sleeve will amplify your pleasure with constant surprises at every thrust. Enter through one end with your partner ready to blow you at the other and give it your best shot.
The Charged Ohare features flexible "ears" that tingle and tremble all the way to their tips for targeted clitoral massage and its double-ring design helps keep it in place: one ring stretches around the shaft and the second stretches around the shaft and testicles, giving you a snug and secure isolation fit.
This pocket-sized 100% waterproof treat means so you're always ready for action and never left unsatisfied. This award-winning Rocks-Off joy toy is packed with powerful and passionate good vibrations! Used foremost as a clit stimulator, you'll be able to penetrate her while she uses the pleasure bullet to help reach bliss. It also means you'll feel the vibrations as you thrust meaning good vibes all around. Another way to use this is while you're receiving oral, the bullet can be held against your testicles, which is sure to send thrills through you.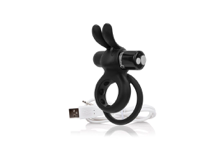 ADAM AND EVES BOOTY BOOT CAMP KIT
Recruit you or your partner's backdoor for a mission you'll never forget! Adam & Eve's complete anal training kit comes with three smooth and flexible silicone anal plugs, sized from beginner to expert. Start with the 4.5" small plug's tapered tip before working up to the 5" medium anal plug, and then deploy the big 6" large plug for mind-blowing penetration pleasure. Insider tip: Combine pjur Back Door spray and Fleshlube Slide for perfect anal sex enjoyment.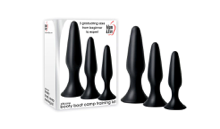 Not a toy but lube is pretty much an essential for carnal pleasure so why not try a lubricant that adds to your sexual experience. Try a Jo Gelato flavoured lubricant designed to enhance foreplay and comfort of intimacy. There are heaps of delicious flavours like salted caramel, crème brulee, and watermelon, which'll make giving blowjobs extra tasty.
Try Fleshlube Fire to turn up the heat with a pleasurable warming sensation on contact or Fleshlube Ice and keep sex hot by using this lube to cool it down. Refresh yourself and your partner with the tingling sensation that enhances sexual stimulation.